Posts Tagged 'vw'
Friday, February 7th, 2020
 Pittsburgh seeks to find ways to get you out of the cold and into the city all winter long from much-loved RV Show to the Home Show and right in the middle the always anticipated Auto Show. Traditionally, held at the David Lawrence Convention Center, a few years ago the Pittsburgh Auto Show was moved from the early spring to February, usually the weekend which celebrates both Valentines and Presidents Day. As always it's the perfect place to find your newest love and what is more patriotic than a new car – it used to be a key component to the American Dream.
Volkswagen enjoys being a part of the Auto Show each year (in case you didn't know we participate in the Washington Auto Show also!) This year we provided eight vehicles for you to check out while you are there. A few of the brand new 2020 updates of our sedans, as well as, 2019 SUVs filled with the latest tech and a fast, fun racer. Check out the map below to see where you can find the Volkswagen area at the Auto Show.
   Three Rivers Volkswagen offers you a great opportunity while you are at the Pittsburgh Auto Show. Not only do you get to sit in our amazing vehicles and find out just which Volkswagen is the perfect fit for you but- we have a deal to offer you. When you stop at Volkswagen there will be a place for you to leave your information with our team. How will this benefit you?

   When you are ready to buy your new VW then you can come to Three Rivers Volkswagen and redeem your $500 Auto Show Bonus. Basically – come check us out, leave your name and info, pick your car then save! Pretty simple. Oh and don't forget to enjoy the rest of the cars while you're there. We hear our partners Porsche are showcasing some pretty sweet rides.
Thursday, January 9th, 2020
It's finally arrived the year 2020, which has been depicted in many movies – especially in the 80s- to feature technologies like flying cars (think Back to the Future).
However, with the first full week of 2020 behind us and the reveal of many concept cars to come, it seems we have fallen behind our fictional technology goals. Outside of fiction, we have managed to create an autonomous vehicle and continue to evolve in the area of self-driving cars. The evolution of the ease of driving has presented one of the lastest concept vehicles featuring a steering wheel in the center console controlled by the palm of your hand (gamers get ready this is your time!).
At the beginning of 2010, our expectations for a flying car, or even a self-driving car, weren't quite set. We had just begun to see the evolution of the remote start, which is now pretty standard. A few articles for the early 2010's highlight features like driver assist but still say it's unlikely cars will drive themselves. They predicted 2020's standard features to be most of what we are seeing these days like blindspot monitoring, adaptive cruise control, Bluetooth pairing, wi-fi, and fuel economy. There were a few guesses that missed the mark, such as night vision; however, LED headlights have become a standard feature.
Beyond some of the exterior features, the idea of vehicles being able to 'talk' to one another was another prediction for 2020. This has become more of an app feature, think Waze, instead of a standard car feature, that doesn't mean that this idea isn't possible. I don't think we'll be seeing vehicles take flight in this decade but, we will be seeing plenty of upgrades, and more of these technologies become standard features for safer driving.
For the new decade, Volkswagen has enhanced both standard and optional features, and we're here to help walk you through what they are and how to use them.
Here at Three Rivers Volkswagen, we know a new car to you doesn't mean that you are investing in a 2020 many people this year will buy pre-owned vehicles, and we know for many of you this will be your first car equipped with technology. We know some of you are still adjusting to a phone without a home button – even though this is becoming old technology- we still have a walkthrough on how to pair your phone to your car for your convenience. If you are still nervous, we can have one of our expert sales consultants show you how to do this and maybe a few helpful apps for you. However, models with Car-Net feature these on display and depending on your phone searching your apps store for Andriod Auto or Apple CarPlay, and you'll be met with plenty of suggestions.
If this is your year and you are looking for that upgrade to 2020, or maybe your lease is up (or you're considering an early lease upgrade), why not stop in and check out what technology awaits you.
Most of the 2020 models for Volkswagen come standard with Car-Net,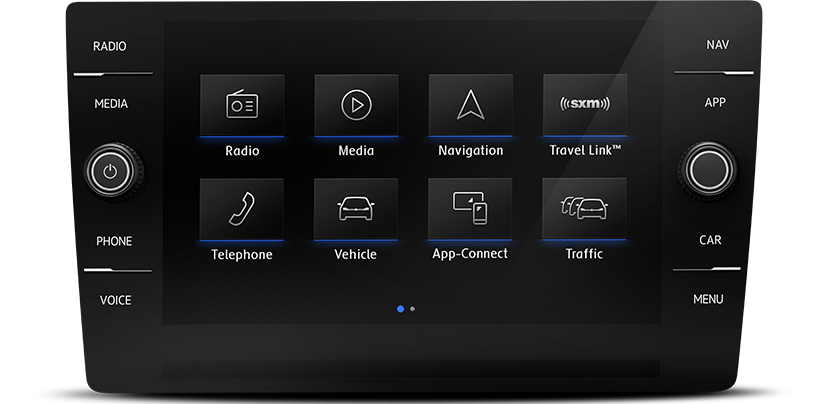 the best way to describe what Car-Net offers is when it would be useful. Think about what is essential when you are driving – directions to where you are going, keep yourself entertained for the long haul (music and audiobooks), and of course, emergencies. Car-Net offers app connectivity, Google assistance, and Siri, music streaming services, and more -plus, you never have to take your hands off the wheel. Wi-fi is even available for a more significant portion of 2020 vehicles.

Keyless entry and push-button start come standard on most of our 2020 models,
as well as, memory for up to three driver's seat settings. Some of the best features that the 2020 Volkswagen's offer are the standard driver-assist package. This includes features like Forward Collision Warning and Autonomous Emergency Braking with Pedestrian Monitoring (Front Assist), Blind Spot Monitor, and Rear Traffic Alert. For the most part, the names are self-explanatory, but, if you have never actually experienced these features, they will change the way you feel about driving. Especially if your daily commute is a long one, or if you simply just enjoy traveling, you will love these additional features. These features provide extra safety for your friends and family so you can drive in complete comfort, especially great if your family has new drivers. Besides all the tech featured in our 2020 models, there are plenty of sleek and stylish exterior changes to get excited for.

As 2020 models begin to roll off the line and into our dealership, we will likely start to see new and exciting things to get ahead of the game for 2021. Looking ten years into the future autonomous driving seems likely to become even more common, but for those of us who still enjoy the drive – I'm sure we'll continue to see greater things.
Check out Three Rivers Volkswagen great selection of 2020 vehicles and more. Schedule your test drive today and ask about all the great technology that accompanies your vehicle!
Friday, December 6th, 2019
Volkwagen Golf GTI plaid interior with golf ball gear shift.
Volkswagen Golf GTI – Not just a car, a sense of style.
Volkswagen's are often known for their sleek and flashy exteriors, but, more often, the real eye-catching looks can be found in the details. Well known for their interior red stitching of various models, the Golf GTI steps up the game setting it apart from all of the other interiors, even the new all-digital 2020 Passat.
When the Golf redesigned in the early 70s, Volkswagen sought to find something to stand out against the competition. At that time, the automotive industry well known for being a male-dominated industry; however, Volkswagen had Gunhild Liljequist on board since the mid-60s. She was fueled by her desire to design and creating perfection in the Volkswagen brand.
Gunhild's vision for the Golf GTI
The Volkswagen Golf GTI's debut in 1976 caused a sensation. Even though only a few details distinguished it visually from the original Golf, Volkswagen—influenced by one of the company's first female designers—succeeded in transforming the compact car into an affordable sports car for the masses and capturing the mood of the era.
Gunhild Liljequist—a porcelain painter and chocolatier candy-box designer by trade—was hired on to Volkswagen's Germany-based Department of Fabrics and Colors in Wolfsburg in 1964 when she was just 28. Her work focused on paint hues, trims and interior detailing, so when the first Golf GTI came into production in the 1970s, she was tasked with designing various elements of its interior from a sporting angle. Liljequist's genius centered on giving the GTI two distinct, but simple, textile elements: a tartan seat pattern and a golf ball-style gear knob.
"Black was sporty, but I also wanted color and quality," Liljequist said. "I took a lot of inspiration from my travels around Great Britain, and I was always taken by high-quality fabrics with checked patterns … you could say that there is an element of British sportiness in the GTI."
Gunhild goes on to say how the idea of the golf ball-style gear knob was just a spontaneous idea but, they ran with it. As confident as Volkswagen is with her design now, she did face some resistance at first with the idea that it didn't fit the image of the typical sporty solid black. Fortunately, since they were willing to take a chance on a young women's impeccable sense of style, Volkswagen still has their, now, iconic interior four decades later!
Are you loving the idea of setting yourself and your vehicle apart on the road? Three Rivers Volkswagen has a featured White Golf GTI with the plaid interior- come see this icon for yourself.