Archive for the 'Technology' Category
Thursday, January 9th, 2020
It's finally arrived the year 2020, which has been depicted in many movies – especially in the 80s- to feature technologies like flying cars (think Back to the Future).
However, with the first full week of 2020 behind us and the reveal of many concept cars to come, it seems we have fallen behind our fictional technology goals. Outside of fiction, we have managed to create an autonomous vehicle and continue to evolve in the area of self-driving cars. The evolution of the ease of driving has presented one of the lastest concept vehicles featuring a steering wheel in the center console controlled by the palm of your hand (gamers get ready this is your time!).
At the beginning of 2010, our expectations for a flying car, or even a self-driving car, weren't quite set. We had just begun to see the evolution of the remote start, which is now pretty standard. A few articles for the early 2010's highlight features like driver assist but still say it's unlikely cars will drive themselves. They predicted 2020's standard features to be most of what we are seeing these days like blindspot monitoring, adaptive cruise control, Bluetooth pairing, wi-fi, and fuel economy. There were a few guesses that missed the mark, such as night vision; however, LED headlights have become a standard feature.
Beyond some of the exterior features, the idea of vehicles being able to 'talk' to one another was another prediction for 2020. This has become more of an app feature, think Waze, instead of a standard car feature, that doesn't mean that this idea isn't possible. I don't think we'll be seeing vehicles take flight in this decade but, we will be seeing plenty of upgrades, and more of these technologies become standard features for safer driving.
For the new decade, Volkswagen has enhanced both standard and optional features, and we're here to help walk you through what they are and how to use them.
Here at Three Rivers Volkswagen, we know a new car to you doesn't mean that you are investing in a 2020 many people this year will buy pre-owned vehicles, and we know for many of you this will be your first car equipped with technology. We know some of you are still adjusting to a phone without a home button – even though this is becoming old technology- we still have a walkthrough on how to pair your phone to your car for your convenience. If you are still nervous, we can have one of our expert sales consultants show you how to do this and maybe a few helpful apps for you. However, models with Car-Net feature these on display and depending on your phone searching your apps store for Andriod Auto or Apple CarPlay, and you'll be met with plenty of suggestions.
If this is your year and you are looking for that upgrade to 2020, or maybe your lease is up (or you're considering an early lease upgrade), why not stop in and check out what technology awaits you.
Most of the 2020 models for Volkswagen come standard with Car-Net,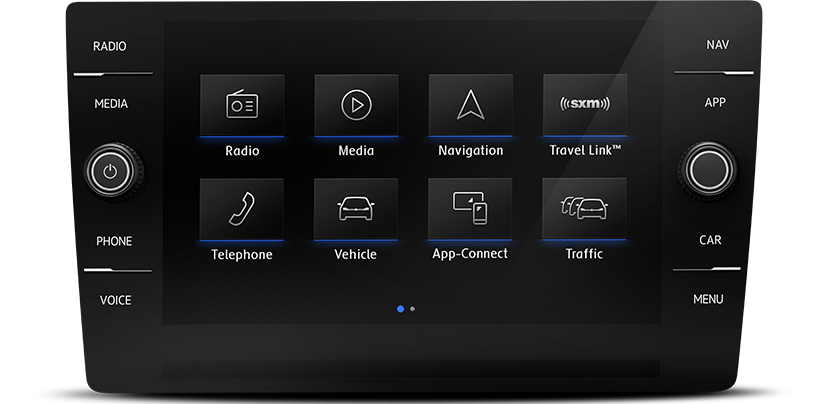 the best way to describe what Car-Net offers is when it would be useful. Think about what is essential when you are driving – directions to where you are going, keep yourself entertained for the long haul (music and audiobooks), and of course, emergencies. Car-Net offers app connectivity, Google assistance, and Siri, music streaming services, and more -plus, you never have to take your hands off the wheel. Wi-fi is even available for a more significant portion of 2020 vehicles.

Keyless entry and push-button start come standard on most of our 2020 models,
as well as, memory for up to three driver's seat settings. Some of the best features that the 2020 Volkswagen's offer are the standard driver-assist package. This includes features like Forward Collision Warning and Autonomous Emergency Braking with Pedestrian Monitoring (Front Assist), Blind Spot Monitor, and Rear Traffic Alert. For the most part, the names are self-explanatory, but, if you have never actually experienced these features, they will change the way you feel about driving. Especially if your daily commute is a long one, or if you simply just enjoy traveling, you will love these additional features. These features provide extra safety for your friends and family so you can drive in complete comfort, especially great if your family has new drivers. Besides all the tech featured in our 2020 models, there are plenty of sleek and stylish exterior changes to get excited for.

As 2020 models begin to roll off the line and into our dealership, we will likely start to see new and exciting things to get ahead of the game for 2021. Looking ten years into the future autonomous driving seems likely to become even more common, but for those of us who still enjoy the drive – I'm sure we'll continue to see greater things.
Check out Three Rivers Volkswagen great selection of 2020 vehicles and more. Schedule your test drive today and ask about all the great technology that accompanies your vehicle!
Wednesday, May 20th, 2015
How to connect Bluetooth to your car
The 2015 Volkswagen Jetta is one of the top-selling compact cars on the market for a reason. It features a comfortable interior, easy handling and advanced safety features. But the Jetta's great qualities don't end there. When you pair your Volkswagen Jetta with Bluetooth, you gain access to a selection of other services for added convenience and entertainments. Here at Three Rivers Volkswagen, we're going to show you how to connect Bluetooth to your car, focusing primarily on the 2015 Volkswagen Jetta.
Thursday, March 12th, 2015
Which VW cars have diesel?
If you've got fuel economy on the brain, you're probably considering a number of auto types that can achieve great mpg numbers, from super small models to hybrids to all-electric. Have you considered diesel? Popular around the world, diesel presents a great way for you to achieve excellent fuel efficiency without sacrificing power. Today we'll offer up some reasons why you might want to go diesel, and then let you know which VW cars have diesel engines and how you can get in and test drive on if you'd like.  (more…)